UKRPOLYMERKONSTRUCTION, LTD
Industry
Construction services
Export destinations
Europe, Asia, Middle East, Far East
Ukrpolymerconstruction LTD is one of the biggest producers of polyethylene pipes.

The Company supplies building objects with polyethylene pipes, proper armature and services in planning and designing pipelines for gas and water supply.

At present, Ukrpolymerconstruction LTD possesses high-capacity up-to-date production facilities.

On the area of 4,200 sq. meters, there are 8 production lines that can process more than 12,000 tons of polyethylene material per year. To store our finished production and raw material, we have over 1,000 sq. meters of storage facilities.

The certified laboratory of our plant exercises regular quality inspection of raw materials and output products. It is equipped with tearing machine and hydraulic testing equipment.

Production assortment of Ukrpolymerconstruction LTD:

• Gas-supply stand-pipes O 16-400 mm
• Water-supply stand-pipes O 16-630 mm
• Pipes for the sewage system, irrigation, monolithic building
• Protective pipes for optical channels, telecommunications channels
• Welded shaped products

All production of Ukrpolymerconstruction LTD is certified by state system of UKRSEPRO and ISO system. Pipes are made of high-quality raw materials PE-80 and PE-100 of leading world manufacturers of polyethylene (Sabik, TVK, LG). The warranty-covered economic life of pipes constitutes not less than 50 years

Company chief
Mr. Vladimir Chirich, Director General
Address
02093, 26-d, Boryspolskaya Str., Kiiv
Phone
+38 (044) 566-02-13
Fax
+38 (044) 566-33-99
E-mail
upk@upk.ua
WWW
Follow the company web-site >>>
Contact person
Mr. Yuriy Kazimir, Director of the Trade House
Phone
+38 (044) 566-02-13
E-mail
export@upk.ua

3917 - TUBES, PIPES & HOSES & THEIR FITTINGS OF PLASTICS JOINTS, ELBOWS, FLANGES, ARTIFICIAL GUTS, SAUSAGE CASINGS
Own production
Yes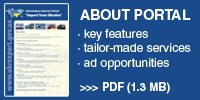 DISCOVERY DRILLING EQUIPMENT (UKRAINE), LTD.
41, Yavornitskogo Str., Stryi, Lviv Region
NEPTUN COMPANY, LTD
3-ий пер. Шевченка, 3, с. Б. Дальник, Беляевский район, Одесская область
BEAUTY AND HEALTH, LTD
12B, Somovskaya Str., Kharkov
KRISTALL, VINNITSA JEWELRY, SC
21 600-letiya Str., Vinnitsa