Aircraft and airspace industry of Ukraine (2007)

Ukraine is in the top nine elite countries of the world to possess a full cycle of aerospace hardware engineering and production.
Besides to design and production of passenger and transportation aircraft, Ukraine also boasts a network of aircraft repair enterprises, including companies involved in recovery of military planes and helicopters. In March 2007, the Cabinet of Ministers of Ukraine created State aircraft building concern "Aviation of Ukraine" (SACAU), which is governed by the Ministry of industrial policy.
The concern includes ten state-owned organizations: Antonov Scientific and Production Complex Design Office, Aviant Kiev Plant, Civil Aircraft Plant No.410, Kharkov Aircraft Manufacturing Plant, Buran institute, State Enterprise Kharkov Aggregate Design Bureau, Kharkov's FED machine building plant, Zapororzhye Machine Building Design Bureau "Progress" named after Ivchenko, as well as Novator Company and RadioIzmeritel (Radio Meter) state property enterprise.
The concern is a state economic association, which runs the principles of complete economic activity and self-repayment and is fully responsible for results of its economic activity and fulfillment of liabilities.
The Statute provides that the Concern was created in order to unify developers and producers of aircraft into a single complex with centralized management. The very centralization of "inefficient" management system for optimization purposes, as well as creation of a single marketing and financial center should help Ukraine's aircraft industry today to overcome its current complexities.
Meanwhile, the Cabinet of Ministers liquidated state aircraft building corporation Antonov National Union. This corporation was established in 2005 and joined five organizations: Antonov Scientific and Production Complex Design Office, Kiev and Kharkov aircraft manufacturing plants, Aircraft repair plant No.410, and UkrNIIAT institute.
Aircraft industry is one of the priority directions in development of modern Ukrainian economy; therefore, state support of the industry is essential. Hence, in 2007 the state allotted UAH 423 mn. The budget-2008 provides for UAH 590 mn (USD 117 mn) for these purposes. The government proposes to forward these money into creating and preparing for serial production of AN-148 and aircraft engines D-436-148 and À²-450ÌÑ. At the same time, UAH 200 mn ($40 mn) are allotted to state enterprises to purchase domestic made planes. It should be noted that state support of the industry is still insufficient, and the latter needs strategic non-state investments.
According to expert estimates, development of new projects (for instance, famous military and transportation aircraft AN-70) and Ukrainian aircrafts entering international markets will only become commercially profitable after serial production of corresponding planes begins. Therefore, at this stage one of the possible ways to solve the task is state financing of programs and state orders for new aircrafts (for instance, for arming of the Ukrainian troops).
Taking into account historical specificity of the product range manufactured by Ukrainian aircraft plants, one should see that profile output for Ukrainian companies includes transportation, as well as passenger planes for regional and medium-haul routes. In this way, Ukrainian producers and the world largest aircraft manufacturers get into different market niches. But it is this very segment of trunk line passenger liners, which is traditionally considered the most profitable one.
Despite absence of active steps by Boeing and Airbus companies on the market of regional passenger aircraft, competition is still tight in this market. The main competitors for Ukrainian plants here are still the same – Russian, Canadian, and Brazilian producers. Situation on the fast developing market of regional transportation can be used by players, and Ukraine may be among them. However, for successful rivalry in this market, the country should revise its development strategies: falling demand for regional commercial liners with capacity up to 70 passengers (once the key market niche for Embraer and Bombardier) forces companies to produce larger aircraft and enter burning competition in the segment of 100-seats planes. The rivals in the niche are Embraer and Bombardier, as well as Boeing and Airbus. Besides, Russian Sukhoi Company also has plans to this market segment with its Sukhoi Superjet 100. Hence, the niche will turn a battlefield for leading aircraft manufacturing corporations and thus will feature sharp competition.
One of Ukraine's advantages when bringing its aircraft into foreign markets should be a well-branched network of enterprises providing service and after-guarantee repair of the aircraft. Location of these plants should stimulate sales of Ukrainian planes to distant markets of South America, Africa, and Australia. These determinants – placing of service enterprises in countries, where aircraft are bought, and their most proximity to customers – should eliminate certain weakness of Ukrainian competitive position on the market of regional and medium-haul planes.
Production of AN-148 aircraft is now one of the most prospective projects for Ukrainian plane manufacturing industry. The aircrafts were engineered by Antonov Scientific and Production Complex Design Office (Antonov ANTK) jointly with other companies of the Russian Federation, Ukraine, and other states. The new plane family has been designed for passenger, cargo-and-passenger, and cargo carriage at air regional ways. The plane should replace outdated analogues AN-24, AN-26, Yak-40, Yak-42, and TU-134, whose service period will end in 7-10 years. CIS demand for AN-148 is estimated at 400-500 units.
AN-148 aircraft family has been engineered for passenger, cargo-and-passenger, and passenger transportation at regional and short-haul airlines.
AN-148 is a short-haul aircraft engineered to carry from 70 to 90 passengers. Maximum flight distance is 5,000 km, cruising speed – 820-870 km/hour. It should be particularly mentioned that that the aircraft is ready for servicing in the most complicated conditions.
Kiev's Aviant aircraft manufacturing plant received a license for the right to use standard construction of AN-148-100 and trademarks Antonov and An in engineering and selling of these aircrafts. Besides to Aviant, serial production AN-148-100 is being also launched in Russia at VASO Voronezh plane engineering company. Earlier, Antonov ANTK signed license agreement with this Russian enterprise for engineering of AN-148 aircrafts. Production of the first serial liners has been scheduled by both companies for 2008. Till now, portfolio of orders for AN-148 is estimated at 96 aircrafts.
More than 4 ths. Antonov trademark planes (20 types and 100 versions) are already in service all over the world. The industry's experts estimate that passenger traffic at domestic flights will double before 2010 – up to more than 1 mn people per annum. Considering that because of resource depreciation of AN-24 and Yak-40 planes, they will be naturally withdrawn from service, renewal of regional aircraft stock and support of growing demand will require 45 aircraft of AN-140 and AN-148 types till 2010, which in turn will cost some UAH 400-470 mn each year. Renewal of the regional aircraft stock with domestic-made planes has been provided by the State program till 2010 upon leasing conditions.
Russian companies are interested to buy 55 aircraft of AN-148 type, and the agreements have already been signed for supplies of 39 of them. Approximate cost of the plane is up to USD 20 mn. New "AN" is also participating in the tender run by Aeroflot, which intends to buy 50 aircraft. Ultimately, Ukrainian liner, which was developed for replacing of outdated TU-134 and TU-154, made a breakthrough to the Russian market and a serious claim to become the main short-haul aircraft in the CIS.
Seventeen airlines of Russia and Ukraine have declared their intentions to purchase around 100 aircrafts AN-148. By now, contracts for aggregate supplies of 41 aircrafts have been signed with airlines Kras-Air, Pulkovo, SCAT, Berkut, and other. Kiev's Aviant aircraft manufacturing plant produces AN-148 planes for Kazakh airlines SCAT, which will become the first operators of this type of aircrafts. 7 planes are now being produced.
AN planes experience competition from Canadian CRJ-700, Brazilian Embraer 170 and 190, as well as prospective Russian RRJ of Sukhoi Corporation. The main difference of new AN-148 is that it is the only regional turbo jet plane, which is already capable to launch flights in the short run. One should also mention higher requirements of foreign-made aircrafts to the quality of airfields used.
Three pilot aircraft AN-148 have already been engineered and forwarded to test flights from Kiev-based Antonov Scientific and Production Complex Design Office. Kiev's Aviant aircraft manufacturing plant and OJSC Voronezh plane engineering company (VASO, Russian Federation) have already engaged in construction of first mass planes. Approximate volume of the world market for these planes – for the period till 2013 – makes 500 units, the CIS demand – some 170 aircraft. The plane has been designed for regional carriage to the distance of 1,500-2,000 km and should replace outdated analogues Yak-40 and TU-134, which now run at regional air transportation in CIS, as well as Asia and Africa.
The main production enterprises of the industry in Ukraine are Kiev's Aviant plant and Kharkov state aircraft manufacturing enterprise.
Kiev's Aviant aircraft manufacturing plant manufactures planes: AN-3, AN-32, AN-70, AN-124, AN-148, and TU-334. The plant sees its prospects (besides to continued engineering of AN-32) related to exploration and serial production of aircrafts AN-148, AN-70, TU-334, AN-3, as well as updating of AN-124 aircraft into civil version AN-124-100.
AN-3 plane (biplane with propeller system) is applied at local routes for transporting (depending on flight distance) of various cargo – weighing up to 1,800 kg.
Aircrafts of AN-32 family (military and transportation aircrafts AN-32B-100, AN-32B-110/120, AN-32V-200, AN-32V-300, sea patrol plane Àn-32MP, as well as AN-32P, which is the aircraft for forest fire extinguishing).
AN-70 is a middle wide-body transportation aircraft, which is capable to carry cargo up to 47 tons. AN-70 belongs to the family of operative tactical military and transportation aircrafts. It has been engineered to maintain transport operations of air force and other combat arms from earth air strips and paved runways and landing of troops through parachute and boarding ways.
AN-124-100 – the plant completed production of Àn-124-100 Ruslan planes, but continues manufacturing of spare parts and fulfilling of various services for Àn-124 planes. Having obtained the required international certificates, the plant is ready to modify planes Àn 124-100 into An 124-150, which suggests greater carrying capacity, as well as updating of navigation and control systems. AN-124-100 (150) Ruslan is designed to carry miscellaneous cargoes, including bulk and heavy cargo, as well as machinery and equipment, which can not be transported by railway or automobile transports. The plane should perform mass cargo carriage for distant routes, including upon intercontinental routes. Large carrying capacity and flight range, economic efficiency of engines, as well as autonomy of aircraft use ensure high profitability of servicing.
AN-148 aircraft family (Àn-148-100À, Àn-148-100Â, Àn-148-100Å, Àn-148-100Å1, AN-148-100Å2) has been engineered for passenger, cargo-and-passenger, and passenger transportation at regional and short-haul airlines.
New plane of OJSC Tupolev TU-334-100 is a contemporary short distance passenger plane of new generation designed for servicing at airlines up to 3,150 km and carrying up to 102 passengers at a speed 820 km/hour. Aviant plant is already launching serial production of new plane TU-334-100, which – thanks to optimal relationship between seating capacity and flight range – is among those passenger aircrafts, which are demanded not only on domestic, but also international plane markets.
Kharkov state aircraft manufacturing enterprise is involved in mass production of AN-140-100 and AN-74.
AN-140-100 aircraft (first turbo-prop regional liner engineered in independent Ukraine for the most flexible and profitable servicing) should carry up to 52 passengers, luggage, mail, and cargoes at regional airlines with large passenger flows, as well as at international routes, with possible exploitation at airfields with artificial surface and rough strips.
The distinctive features of AN-140 – high flight characteristics and fuel efficiency, reliability and environmental indicator, and high level of on-board comfort – relate the plane to new generation of regional turbo engine machines intended for the most intense exploitation in any geographic and climate conditions.
Besides, the lowest cost of life cycle in their class and modern concept of after-sale servicing help customers adjust the plane either for regular services, or for charter programs, in which operational expenditures are the main determinant.
Available developments in the segment of super large transportation aircraft, as well as already formed stock of such planes help Ukrainian companies successfully offer services on the international market of cargo air freightage. Therefore, the most famous Ukrainian specialized transportation carrier is Antonov Airlines: super heavy aircraft fly to the hottest spots in the world delivering humanitarian aid to those in need. Today European states are the main customer of super size transportation performed by AN-124-100 Ruslan planes (35-40%), having outrun even the USA. By expert estimates, today Antonov Airlines are the second largest cargo air carrier following Russian Volga-Dnieper Company and occupying 40% of the world market of large size transportation.
Competition in the field of super heavy cargo freightage is not so burning, as in military cargo transportation – for the reason of limited stock of necessary planes (for instance, of the same Ruslan aircraft). The main competitors of the Ukrainian stock of military and transportation aircraft Il-76 are their Russian colleagues, who have more aggressive policy on the transportation market. Experts say that competition is the main reason for on-going accusations that Ukrainian transportation aircraft are used for armament smuggling, though none of them has been confirmed by international organizations.
The potential investor is still missing a huge and very lucrative segment of Ukraine's aircraft industry: companies producing ultra light aircraft (ultra light planes, hang-gliders, moto hang-gliders, and paragliders), which are traditionally left in the shadows of the large plants. At this time, Ukraine still has no domestic market for such aircraft, but foreign markets are open for them.
Four companies are involved in mass production of ultra light aircraft in Ukraine:
"Aeropract" (Kiev) — ultra light 2-seat planes A-20, A-22, A-24, A-26, and A-36;
"Aeros" (Kiev) — hang-gliders, paragliders, moto hang-gliders, ultra light planes Skyranger of French design, recovery parachutes, and pilot accessories;
"Liliental" (Kharkov) — ultra light planes Bekas and Chibis, moto hang-gliders;
"OstWestConsulting" (Kherson) — ST-2K planes, and hang-gliders.
Ukraine has officially registered some 600 objects of ultra light aviation – moto hang-gliders and ultra lights.
These companies are involved in official mass production of ultra light aircraft, but there are a big number of small companies producing non-serial and often non-commercial models. Gross production of light and ultra light planes in Ukraine does not exceed 200 units per annum. Production of hang-gliders and paragliders of all designs makes nearly 1,000 units each year. Most of produced devices are exported (the buyers of Ukrainian-made ultra light aircraft are the USA, Australia, New Zealand, the United Kingdom, France, etc.). An active export policy by Ukrainian producers is aimed at establishing contacts with foreign mediators and creating companies to run direct sales.
Dynamics of aircraft export and import
Dynamics of Ukraine's foreign trade in aircraft devices over 2001-2007, financial value, USD ths.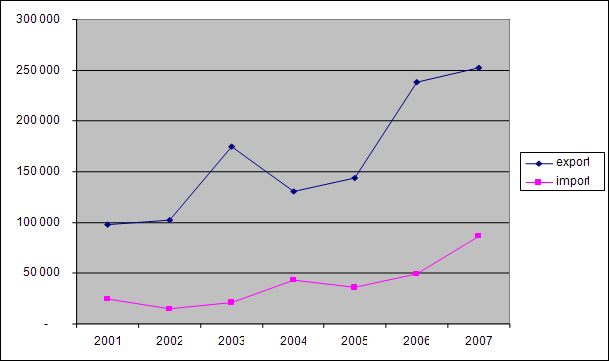 According to expert estimates, in 2007 export shipments from the country grew by 63% and came to approximately USD 252 mn. Import to Ukraine is traditionally lower than exports, which is reasoned by well-developed production of devices within the country. Meanwhile, local airlines managed to purchase a lot of foreign machinery last year. Thus, import volumes in 2007 increased by 75% and came to almost USD 87 mn.
Prospective aircraft markets for Ukrainian producers are Asian and African countries, which show low demand for expensive, but not always of higher quality American and European planes. These countries foremost include Saudi Arabia, Libya, Egypt, UAE, and Pakistan. Iran imports aircraft sets for assembly.
The second direction of Ukrainian-made planes export is traditionally the Russian Federation and the CIS. It should be mentioned that shipments of Ukrainian products to Russia are made not as finished aircraft export, but supplies of technologies and components for plane assembly at Russian plant OJSC Aviakor – Aircraft manufacturing plant (Samara).
Similar to situation with exports, such import pattern is caused by high share of components and sets within gross trade volume. All planes of Ukrainian origin are the result of international cooperation, which can be demonstrated by Kharkov Aircraft Manufacturing Plant. Russia supplies particular elements for piloting and navigational systems, radio equipment parts, and hydraulic units; Kazakhstan – fire prevention equipment; and Azerbaijan – elements for domestically assembled components. The enterprise buys electric equipment parts and cables from Germany and France, seats from Switzerland, and GPS and TCAS systems from the USA.
Aerospace industry
Ukraine is among five countries worldwide which have a complete circuit of space rocket production. Ukrainian enterprises own 17 out of 22 world technologies and participate in 50 international projects.
The entire space rocket industry in Ukraine has been managed by the National Space Agency of Ukraine since 1992. The agency includes 30 enterprises, scientific research institutes, and design offices.
Draft budget of Ukraine for 2008 provides for UAH 444.5 mn (USD 88 mn) of state funds to be forwarded into development of airspace industry, and UAH 240 mn (USD 47 mn) – into creating of technology of solid rocket fuel utilization.
The status of National Space Agency of Ukraine has been changed in 1999, and more than 20 enterprises and organizations were given to its subordinance, which included:
National center for space crafts management and testing;
State enterprise "Center of standardization of rocket and space crafts";
Dnepropetrovsk representative office of principal – National Space Agency of Ukraine;
State enterprise "Yuzhnyi machine building Plant named after Makarov" Production Union;
State enterprise "Dnepropetrovsk project institute";
Yuzhnoye state design bureau named after Yangel;
OJSC Ukrainian scientific research institute of machine building technology;
National center of airspace education of Ukrainian youth;
State enterprise DneproKosmos (Dnieper Space);
State enterprise Pavlograd chemical plant Production Union;
State enterprise Nikopol tube plant;
State enterprise Scientific center of precise machine building;
State enterprise Arsenal plant;
State enterprise UkrKosmos (Ukrainian Space);
OJSC Kiev radio plant;
State scientific and production center Priroda (Nature);
OJSC "Scientific and production complex "Kurse" (Course);
OJSC ELmiz;
State enterprise Kievpribor (Kiev Device) Production Union;
State property company Arsenal central design bureau;
Kiev representative office of principal – National Space Agency of Ukraine;
OJSC RSV-RadioPlant;
State joint-stock holding company "Kiev RadioPlant"; and
Scientific research technological institute of instrument engineering.
National space agency of Ukraine is a specially authorized central body of executive power, which ensures fulfilling of the state policy in space field, administers this area, and bears responsibility for its development state.
National Space Agency of Ukraine accomplishes the following projects:
Cyclone-4: the newest and the most powerful version of Cyclone carrier rockets, which were designed by Yuzhnoye design bureau and produced by Yuzhnyi machine building plant. The project foresees that carrier rocket will be launched from launch center Alcantra (Brazil)) in 1995, Yuzhnoye State Design Office named after M.K.Yangel and Yuzhnyi Machine Building Plant named after A.M.Makarov jointly with U.S. Boeing Commercial Space company, Kvaerner Maritime a.s. of Norway, and Russian Energy Space Rocket Corporation established joint venture Sea Launch to implement the unique international project Sea Launch.
The main component of the Sea Launch rocket and space complex is a rocket segment, which is responsibility of Energy Space Rocket Corporation.
Rocket segment consists of 3-stage environmentally safe carrier rocket "Zenit-3SL" and technological equipment complexes for preparing and launching of carrier rocket.
Carrier-rocket "Zenit-3SL" includes: 2-stage carrier rocket "Zenit–2S" developed and engineered by Yuzhnoye state design bureau and YuzhMash production union. "Zenit–2S" is a state-of-art launch vehicle, which is distinguished for simple exploitation and complete automation of preparing and launching process; accelerating block DM-SL (third stage), which was created by Energy Corporation and is described with high and proved reliability; as well as useful load unit developed by Boeing company.
Yuzhnoye design bureau is in general responsible for creating "Zenit-3SL" carrier rocket.
"Land start" foresees provision of launching services at Baykonur spaceport – on the basis of "Zenit-2" carrier rocket. The project is being fulfilled together with the Russian Federation – in order to develop "Sea launch" project for launching of carrier rockets "Zenit-2" and "Zenit-3" from Baykonur spaceport. Joint Ukrainian-Russian enterprise "International space services" has been established to implement the project. In 2001, Ukrainian Yuzhnoye Design Bureau (Dnepropetrovsk) won the international tender, which was held by the government of Egypt, for creating of the first Egyptian satellite for land remote sensing EgiptSat-1. Besides to Ukraine, other participants of the tender were the United Kingdom, Russia, Korea, and Italy.
Activities upon creating space vehicle Egyptsat-1 were held in accordance to the contract for projecting, producing, launching, training, and transferring of technology for Egyptsat-1 satellite, between NARSS (Egypt) as Client and Yuzhnoye Design Bureau (Ukraine) as Contractor.
Created on the basis of microtechnologies, EgiptSat-1 weighing up to 100 kg is run at solar- synchronous orbit.
Orbit launching of the satellite was held on April 17, 2007 at 9.46 a.m. (Kiev time) with conversion carrier rocket "Dnepr-1".
"Dnepr" project foresees remodeling of intercontinental ballistic missiles RS-20 (SS-18 "Satana"), which are withdrawn from the arms in Russia, into 3-stage carrier rocket "Dnepr" with the most use of worked-out systems, elements, and infrastructure of experimental start and technological complexes at Baykonur spaceport.
Works of creating rocket space complex "Dnepr" began in 1992. International Russian-Ukrainian company "Kosmotrans" was created to run the project and be responsible for engineering and commercial servicing of the carrier rocket.
Under conditions of market economy, the enterprise chose international space cooperation as key direction for the implementation and further development of its unique scientific, technical, technological, and production potential. The first steps in this way showed the willingness and capability of Yuzhnoye Design Office to carry out successful cooperation with leading enterprises in the USA, Russia, and Europe in fulfilling of the most complex space projects.
Zenit, as an environmentally safe rocket system, became a world-renown accomplishment of Yuzhnoye Design Office. The system is one of the world best carriers with fully automated processes for take-off and super precise space injection. The first stage of Zenit was used as side accelerators in the Energy - Buran universal space system. This is another proof that a whole family of prospective space carriers can be based upon Zenit.
Sea Launch International company was set up to implement the Sea Launch project. Its founders include the U.S. Boeing Commercial Space company (40% in the authorized capital), Russian Energy Space Rocket Corporation named after S.P.Korolyov (25%), Kvaerner Maritime a.s. of Norway (20%), as well as aerospace enterprises of Ukraine – YuzhMashZavod Production Union and Yuzhnoye State Design Office named after M.K.Yangel (15%). Experts claim that a key to success in implementing of Sea Lunch project is its relatively low cost and unique capacities of Zenit Ukrainian rocket. Using of open sea for space launches helps avoid many hardships related to particular ground spaceport with its tight fixed conditions of launch, service, lease, and the necessity to strictly define areas for disposal components landing (so-called restricted zones).
Should Ukraine implement all its plans in the field of aerospace use, the country will make a real breakthrough on the world market of space services. And the plans are enormous. Especially, because there has been some success. The National Space Agency of Ukraine, besides to Sea Launch project, is involved in cooperation with American Rockwell Int. Company in search of potential customers for launches of Cyclon carrier rockets produced by YuzhMash Production Union.
American business and financial communities showed interest in prospects of Cyclon use as one of the most state-of-art carrier rockets, which correspond to all international requirements and tendencies of world space market development. Cyclon carrier rocket permits bring up to four tons of useful load to low orbits (up to 800 km). The cost per launch is less than USD 40 mn. It is cheaper and has more advantages than launch of French Arian carrier rocket (some USD 100 mn) and American rockets of such class (some USD 120 mn).