VARIANT, FACTORY, LLC
Industry
Other services
Export destinations
Saudi Arabia, U.A.E., Kuwait, Lebanon, Libya, Iraq, Ireland, Germany, Nigeria
Equipment for agriculture, horticulture, forestry, poultry, or beekeeping for poultry incubators and brooder. Lamps and lighting equipment, including lights, lamps and parts, signs, luminescent, boards. Construction of steel and their parts (bridges and their sections), sheets rods, angles, pipes.

7308 - STRUCTURES & PARTS THEREOF OF IRON OR STEEL (NOT 906) BRIDGES & SECTIONS, LOCK GATES, TOWERS, ROOFS, DOORS, WINDOWS, BALUSTRADES, PILLARS
Own production
Yes
7326 - OTHER ARTICLES OF IRON OR STEEL GRINDING BALLS, BELTING, HORSE SHOES, HANGERS, LADDERS
Own production
Yes
8436 - OTHER AGRICULTURAL/HORTICULTURAL/FORESTRY/POULTRY OR BEE KEEPING MACHINERY PARTS THEREOF GERMINATION PLANT, POULTRY INCUBATORS AND BROODERS
Own production
Yes
8480 - MOLDING BOXES FOR METAL FOUNDRY MOLD BASES MOLDING PATTERNS MOLDS FOR..METAL(NOT INGOT), METAL CARBIDES, GLASS, MINERAL MATERIALS, RUBBER, PLASTICS
Own production
Yes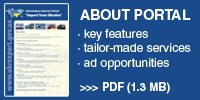 DISCOVERY DRILLING EQUIPMENT (UKRAINE), LTD.
41, Yavornitskogo Str., Stryi, Lviv Region
NEPTUN COMPANY, LTD
3-ий пер. Шевченка, 3, с. Б. Дальник, Беляевский район, Одесская область
BEAUTY AND HEALTH, LTD
12B, Somovskaya Str., Kharkov
KRISTALL, VINNITSA JEWELRY, SC
21 600-letiya Str., Vinnitsa