RECONSTRUCTION OF PUMP STATION AT THE 1-ST ASCENT OF DONETS-DONBAS CHANNEL
Project summary
The project involves the reconstruction of the existing pumping station of the 1st ascent at Donets-Donbas channel, which has been operational since 1958.

The reconstruction volume includes:

Replacement of 3 existing pumps 52B-11 (feed rate - 22320m3/h, head - 87 m) from electric motors with power of 7.5 MW and total weight of 94.5 tons each in new units with thyristor static excitation system and soft starters, similar in their technical characteristics to replaced equipment.

Replacement of the existing high-voltage equipment in a modern, replacement of electrical equipment of alternating and direct current, as well as change of pump station control systems are also provided.

The project involves the reconstruction of mechanical equipment of the pumping station: replacement of two cone gates of idle culvert on 500 mm diameter steel bolts with electric gates, replacement of rotary shutters with diameter of 1600mm at discharge tubes of pump units ¹ 1, 4, 5.

Annual energy savings will be 19 million kWh to the indicative amount of UAH 9880 thousand.

The main objective of the project implementation is to reduce energy consumption by improving the efficiency of the new pump-power equipment by 13%, reduce of the cost for capital and current repairs of equipment, improving the reliability of hydraulic complex of the channel.

Work papers are developed.

Energy consumption by the pump station of the 1st channel ascent amounted to 142.416 thousand kWh with total value of UAH 42227.5 thousand in 2008.

A positive decision of a comprehensive public examination of the project attends.
Geographic location
Donetsk region, Slavyansk district
Investments required directly from investor
UAH 7299.673 thousand
Payback term
7 years
Project duration
30 years
Company name
Water of Donbas Utility Enterprise
Company's basic activity
Centralized water supply and sewerage
Company's production
Potable and technical water, drainage systems, electric power generation, mechanical engineering, thermal energy.
Contacts
Mr. Vitaliy Postolenko

Call/fax: +38 (044) 482-05-56

Mob.: +38 (068) 417-42-62

E-mail: v.postolenko@dzi.gov.ua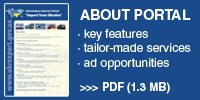 DISCOVERY DRILLING EQUIPMENT (UKRAINE), LTD.
41, Yavornitskogo Str., Stryi, Lviv Region
NEPTUN COMPANY, LTD
3-èé ïåð. Øåâ÷åíêà, 3, ñ. Á. Äàëüíèê, Áåëÿåâñêèé ðàéîí, Îäåññêàÿ îáëàñòü
BEAUTY AND HEALTH, LTD
12B, Somovskaya Str., Kharkov
KRISTALL, VINNITSA JEWELRY, SC
21 600-letiya Str., Vinnitsa